Aluminium Sliding Doors in Bishop's Stortford
At Bluemanor, we offer brilliant aluminium sliding doors to homes in Bishop's Stortford. With these doors, you could replace an old back door, or even a wall of your home, with a sleek, elegant design. Sliding doors have full panels of double glazing and slimline aluminium profiles. Because of this, you get brilliant views of the world around you, even when you close them.
However, when you choose to open your aluminium sliding doors, they'll come alive. That's because they operate on an in-line slider, meaning a smooth opening with no swing arc. All you have to do is push them along their tracks, and the whole door will disappear. What you'll have left is a seamless transition from your home to your garden.
With Bluemanor, you can install aluminium sliding doors for less too. We're a local installer in Bishop's Stortford, meaning we can offer personalised service that works for you. We can offer short wait times and lower costs, working around your schedule when we need to. Also, we source our sliding doors from leading manufacturers to make sure you make a great investment.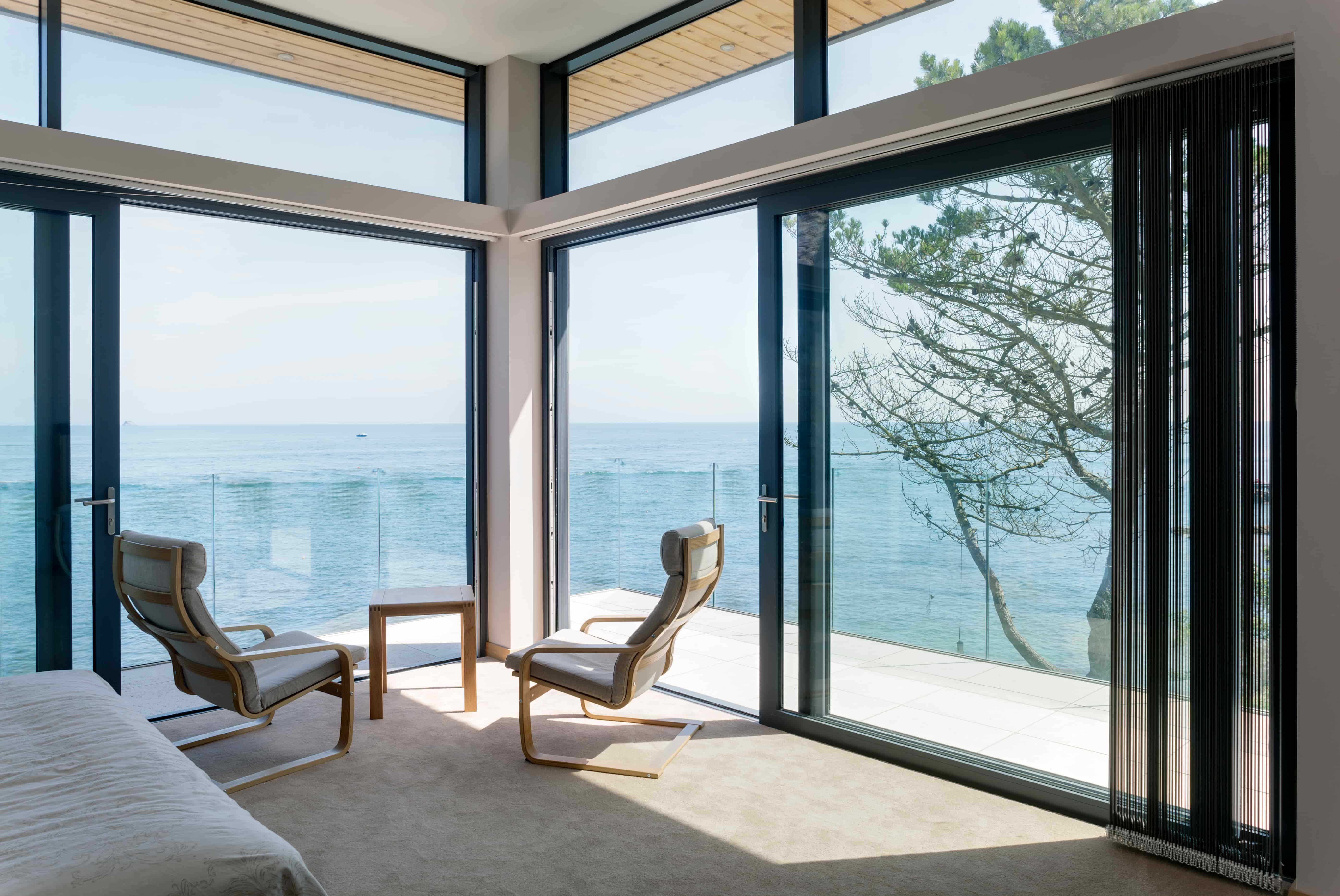 Energy Efficient Aluminium Sliding Doors Bishop's Stortford
One of the main benefits of our aluminium sliding doors is their efficiency. In your doors, you'll get a blend of double glazing and aluminium, materials that can both insulate your home brilliantly. With double glazing, you'll get two panes of glass protecting your space from the cold, rather than one. As a result, you get better insulation for your living space that keeps you comfortable.
Around the glazing, though, you'll have highly durable aluminium profiles that help too. They're air and water-tight, meaning there'll be no space for air to get around your doors, preventing problems like draughts. The whole design captures more of your home's natural heat too, meaning you'll be warmer while spending less on your energy bills!
Our aluminium sliding doors also help the planet as much as your home in Bishop's Stortford. The materials last for decades, meaning you won't have to replace them for close to half a century. Our doors are recyclable too, ensuring they won't end up in a landfill. And, thanks to their efficiency, you can reduce your carbon footprint and your emissions.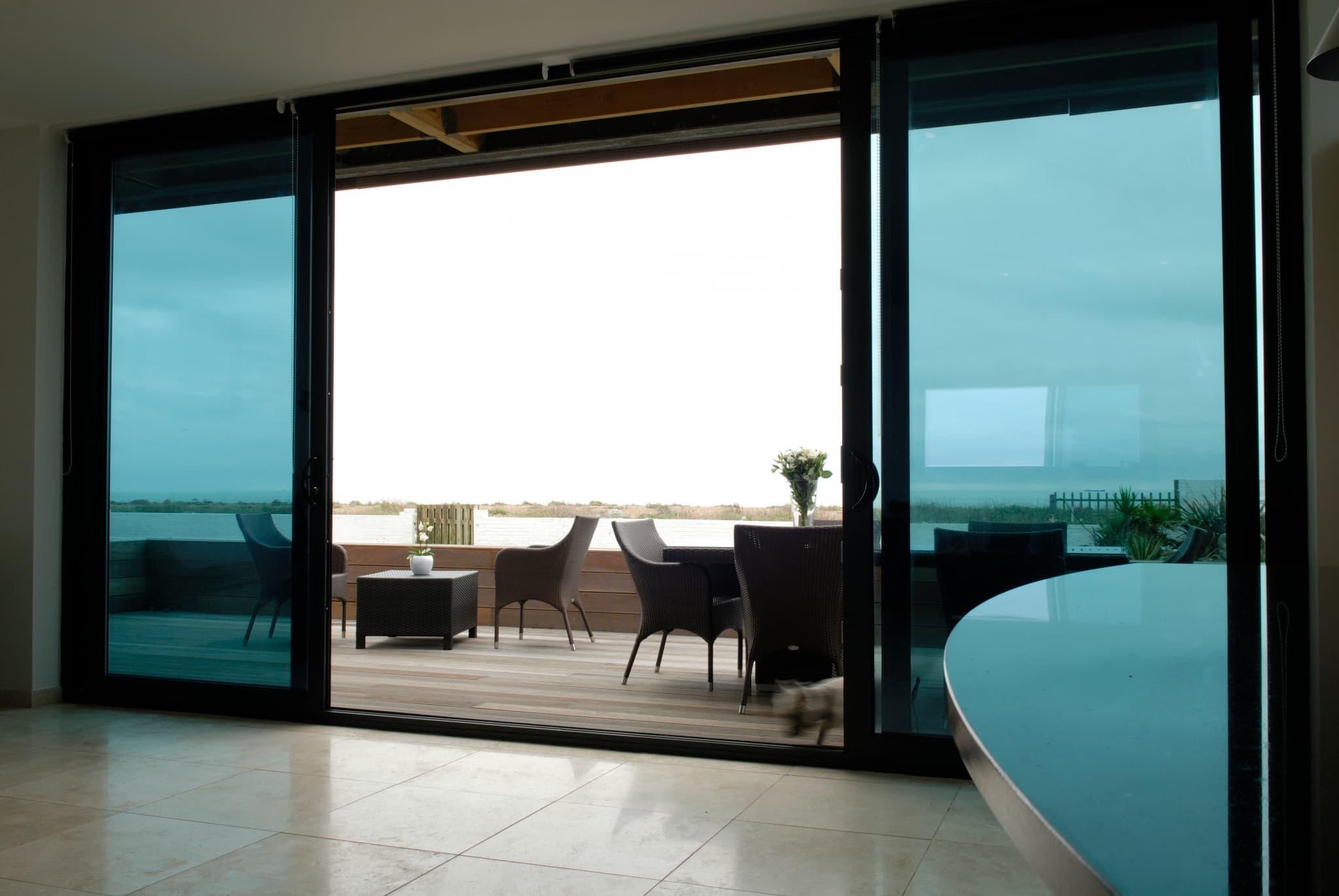 Secure Aluminium Sliding Doors Bishop's Stortford
With our aluminium sliding doors, you can also protect what matters most in your Bishop's Stortford home. That's because our designs come loaded with the latest security hardware to protect your living space. Thanks to the aluminium frames, your doors will be impact-resistant. That way, you'll be able to resist forced entry attempts.
The aluminium frames also cover features like resilient hinges and multi-point locking mechanisms. Because of this, an intruder won't be able to separate the double glazing panels from the door. The aluminium frames protect the hardware from the weather too, meaning they won't rust or wear down. Your locks will keep their robustness for decades to come.
Another feature that makes our aluminium sliding doors secure options for your Bishop's Stortford home is their in-line slider. The slider lowers the door closer to the floor, meaning that an intruder will struggle to prise it up from underneath. As a result, your doors will be anti-crowbar designs, and you can make it even tougher for them with a low-threshold option.
Waterproof Aluminium Sliding Doors Bishop's Stortford
Aluminium sliding doors can open your Bishop's Stortford home to the outside world. With their slimline frames and full panels of glazing, natural light and warmth can flow through your home with ease, and you can open the doors to ventilate your space as well. However, that doesn't mean your doors will let you down when the weather turns on you.
If anything, aluminium sliding doors are more useful in poor conditions. That's because we make sure the design of our aluminium sliding doors is fully weatherproof for your Bishop's Stortford home. Wind and rain won't damage the frames, which keep their strength and shape for decades. As a result, you won't even need to repaint them!
These doors can last for decades inside your home. The glazing is tough, the frames are durable, and the hardware will retain its firmness. Because of this, you could benefit from our aluminium sliding doors in your Bishop's Stortford home for 50 years, without regular maintenance. And, for all that time, you'll get a smooth operation that makes them effortless to open.
Aluminium Sliding Door Prices Bishop's Stortford
With Bluemanor, you can add aluminium sliding doors to your Bishop's Stortford home for less. As a local installer, we believe more people should be able to enjoy these stunning doors. That's why we keep our prices fair, our service personal and our wait times low for our customers throughout the area.
If you'd like to find out how much you could save on sliding doors, create a unique design today with our innovative online design tool. Once you have the doors of your dreams, you'll get a free online quote that can make it more of a reality.
Also, Bluemanor is happy to help with further advice and information. You can fill in our online contact form or call us on 01376 322 266 today to speak to our friendly team.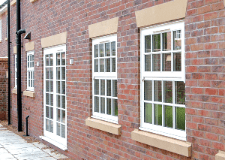 Find Out More
Windows
Attractive and modern windows that offer outstanding energy efficiency, Yale security and British engineering. Our Liniar windows are designed to complement any home in Maldon.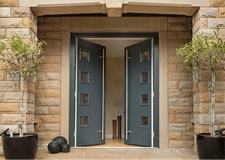 Find Out More
Doors
Be the envy of your street with one of our beautiful uPVC or composite doors. With Yale high security locks and a variety of design options let us transform your Maldon property.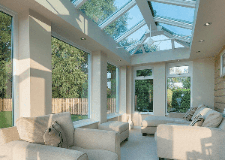 Find Out More
Conservatories
Extend your home with the addition of a stunning conservatory. Increase natural light and space by incorporate a bespoke conservatory into your living area.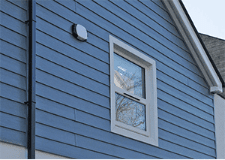 Find Out More
Roofline & Cladding
For a complete home improvement package, consider updating your fascias, soffits and guttering to keep your home protected or installing cladding to featured areas of your home.