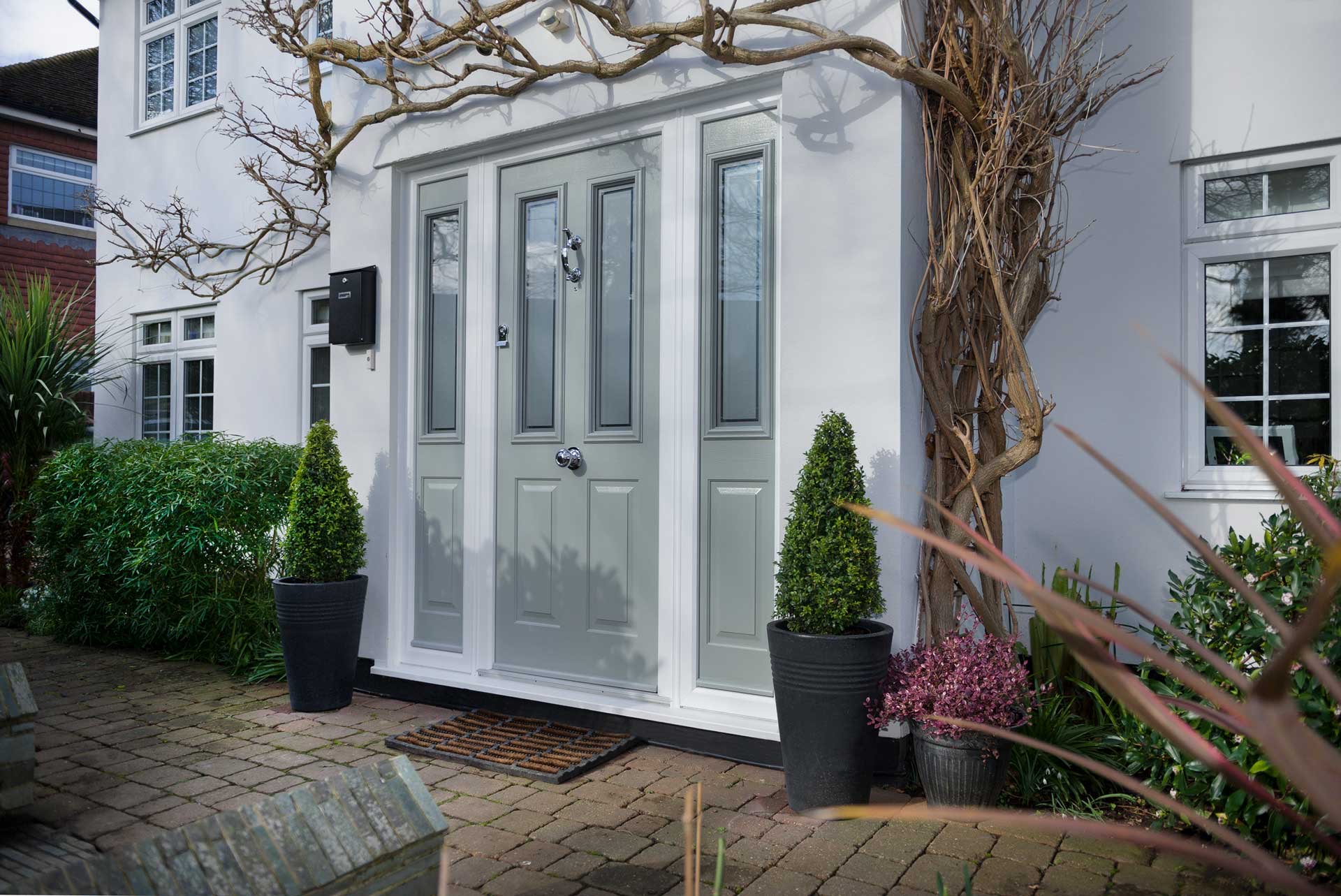 Composite Doors Braintree & Essex
Bluemanor offer high quality composite doors. Based in Braintree, we locally cover Chelmsford, Bishops Stortford and Halstead, as well as Essex and the surrounding counties. Get a composite door cost online or read more about this product below.
Arrange your Free & No Obligation
Quotation Today
Book your Free & No Obligation Quotation with one of our expert team today, alternatively book a visit to our beautiful showroom to discuss your project and see our products in further detail.
Secure Composite Doors
Composite doors provide style and substance for those in Braintree, Essex and beyond. Engineered with robust cores, composite doors are renowned for their security. They provide peace of mind against forced entry, without compromising visually.
Their designs can mimic that of timber, aluminium and steel, while delivering better and more well rounded performance levels than all three. Better yet, composite doors are low maintenance and last for decades. It's no surprise they are such a popular investment here in Essex.
Unrivalled Security
Yale's high security multipoint shootbolt locking mechanisms come as standard with Bluemanor Doors and provide peace of mind that your new doors are incredibly secure.
Unbeatable Energy Efficiency
We understand how important it is that your home is as energy efficient as possible. At Bluemanor our composite doors achieve an A+14 energy rating as standard–the highest you can achieve for a double glazed door.
Made in Britain
We are proud to support UK manufacturers, with all of our products being proudly produced in Britain. Our composite doors are of the highest quality.
High Security
As a pioneering composite door installer, we can offer various high security features. Fitted as standard in our doors is either the Yale or Ultion locking mechanisms. You get the best.
Solid Timber Core
The Solidor door, one of our two options, boasts a 48mm solid timber core, thicker than many composite doors on the market today. This added thickness makes it an extremely durable choice.
Excellent Weatherproofing
Composite doors offer fantastic weatherproofing. One of our door systems is tested in a pressurised chamber to ensure they are resilient to gale force winds and heavy rainfall.
Colour Choices
Both our Solidor and Doorstop composite doors have a fantastic range of colour to choose from.  The exterior, interior and frame can be requested in almost any attractive finish the homeowner desires.
Thermally Efficient
A thick timber core means better heat retention. Our composite doors block cold draughts from entering and keep the warm air in during the winter months- a fantastic energy saving incentive.
Our most popular Composite Doors from Doorstop International provide unrivalled strength, security, weather resistance and easy maintenance providing you with a door that will perform and look great for years to come.
Our Premium Timber Core Composite Doors from Solidor provide unique Colours Combinations, Door Designs and Glass Patterns allowing you to design a door which is as unique as you are.
NEED INSPIRATION?
View Our
Composite Door Gallery
View More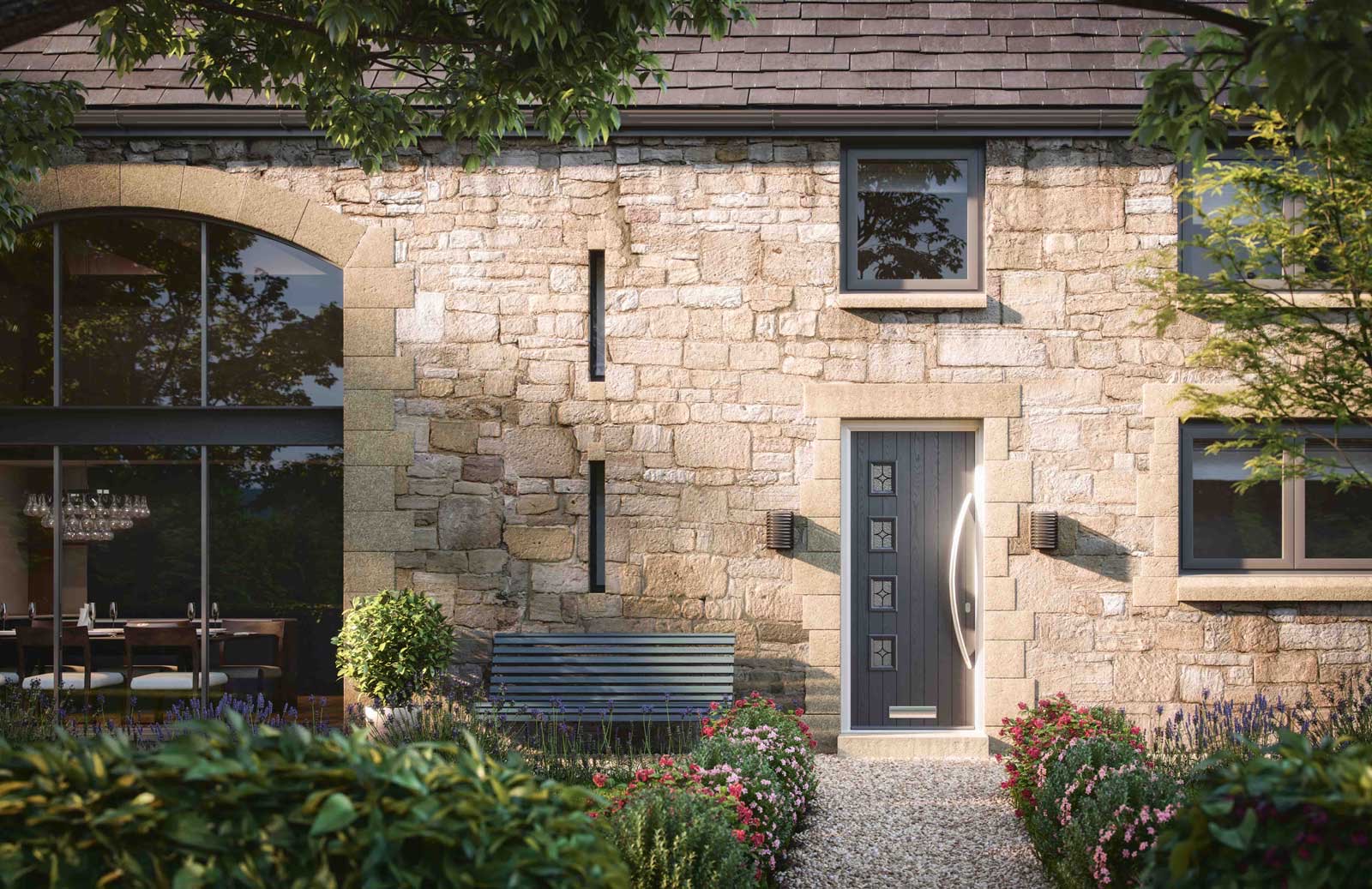 In-House Installations
Here at Bluemanor, we never outsource. From start to finish, you'll work exclusively with our expert team. We only hire the most skilled professionals for our installations too, so you're in good hands when it comes to on-site work.
Doing so means we can ensure everything is watertight, and that everyone adheres to our strict and high standards for customer care. We want to take the hassle away from having a composite door fitted, and keeping everything in-house ensures that.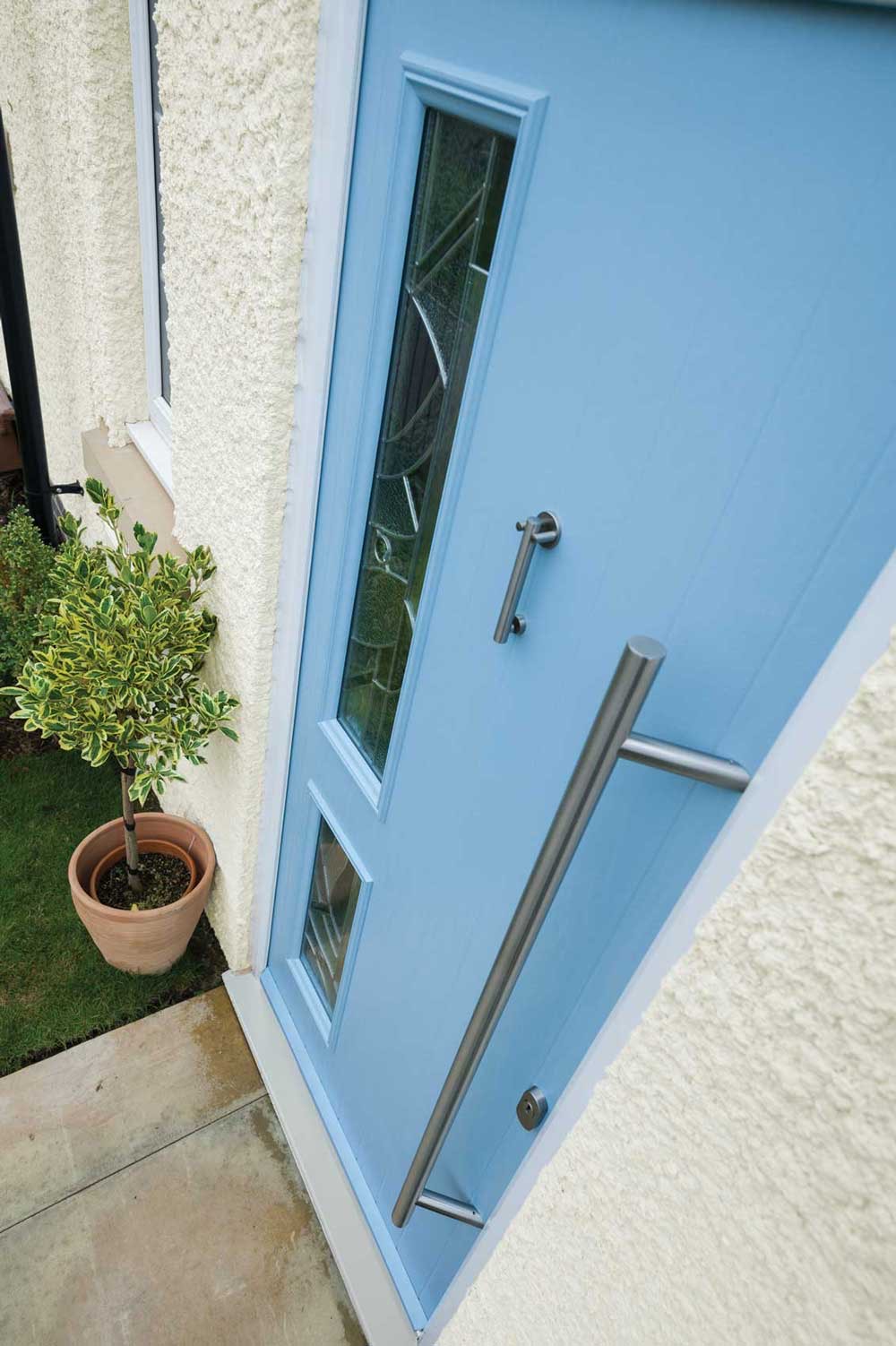 Highly Recommended Service
With the emphasis we place on customer care, we're humbled to have received hundreds of positive reviews over the years. Our services here in the Braintree and Essex areas come highly recommended by homeowners just like yourself.
As experienced experts, we can truly be relied upon as composite door installers. As a local, family run business, our deep roots in Essex mean we aspire to make your home renovation dreams a reality. You're in good hands when you come direct.
If you'd like to personalise your door design, why not visit our showroom? Our expert team can advise you on finding the perfect look for your next door.
TESTIMONIALS
What Our
Customers Say
Kevin Cottis
Bluemanor Windows have been excellent with their communications from day one. A slight delay with the door, but they telephoned to confirm this. Anthony and Austin the fitters were very professional and did a great job. We would highly recommend this company
June Butcher
Anthony and Austin fitted our new front door and glass side panel yesterday. We are so pleased with the work they have done. Polite and professional will recommend Bluemanor Windows friendly and helpful from start to finish.
Suzanne Knight
Austin and Anthony were very efficient and friendly. They did a great job installing our new door.
Elizabeth Kingseller
We had a new front door installed and were very impressed with the service and the door itself. Paul and Austin did a great job fitting it. Thank you.
Bev Rossi
Excellent service from Bluemanor from choosing, purchasing and installation. Paul and Austin were excellent today fitting our front door and side panels and obviously take pride in their work. So pleased with our new door and the service provided by Bluemanor.
Neil MacDonald
Very pleased with our replacement windows; they look lovely and feel well made. Great work by Anthony and Austin who were very polite & friendly , they installed them quickly and neatly & cleaned up after – even helped me remove the blinds before fitting. Overall an excellent job, many thanks.
Jenny Bowman
We have had a very positive experience with Bluemanor Windows, always very helpful and informative. We had Austin and Anthony who fitted our 2 front doors, 1 back door and a window for us today. They were very polite and professional and fitted our products to the highest standard. Thank you very much!
Visit Our Case Studies
Finance
Options
Here at Bluemanor, we are proud to offer a fantastic range of flexible finance options to help you on your home improvement journey. We have partnered with Improveasy, a leading finance company who specialise in bespoke financial solutions for homeowners looking to achieve the home of their dreams.
If you are looking to enhance your home, take a look at our finance options to find out how Bluemanor can help you.
Energy Efficient
& Environmentally Friendly
Less Air Miles
By working with a company that installs UK made composite doors, there are less air miles involved in your renovations.
Lower Carbon Footprint
These front doors are incredibly energy efficient. Combine them with new windows and you could improve your carbon footprint.
Longer Lasting
The lifespan of a composite door is measured in decades, not years. You won't need to replace it any time soon.
Lead Free
As with our uPVC doors, these composite systems are fully lead free. They are the environmentally friendly choice.
Visit our
Showroom
We have a stunning showroom in the heart of Braintree, here in Essex. You can visit us today and view a whole range of our bespoke products in person. We're sure you'll fall in love with one double glazing product or another. After all, we offer a full suite of windows, doors and conservatories, from the modern to the traditional.
You can also use your visit to discuss your projects with an in-house expert.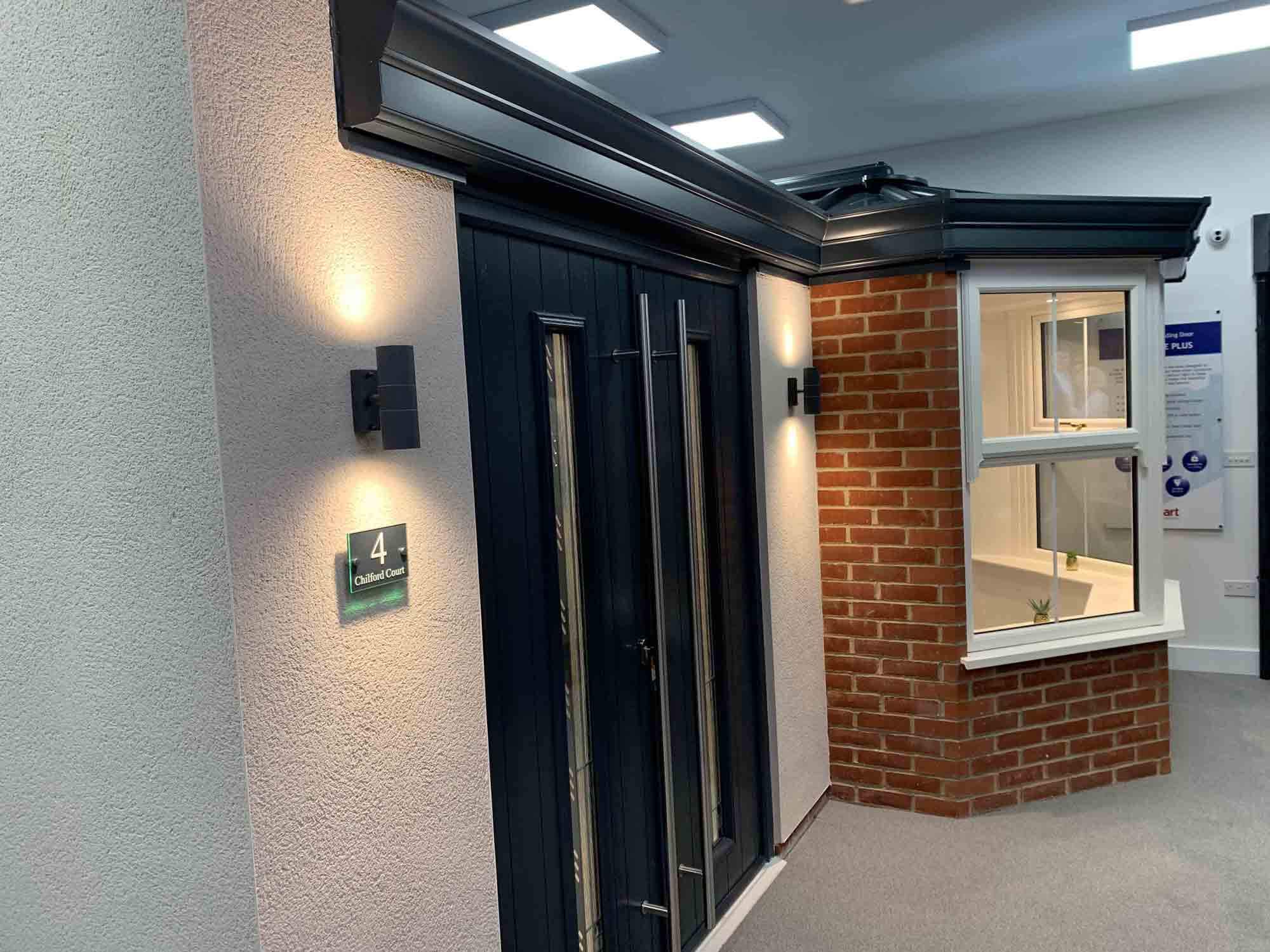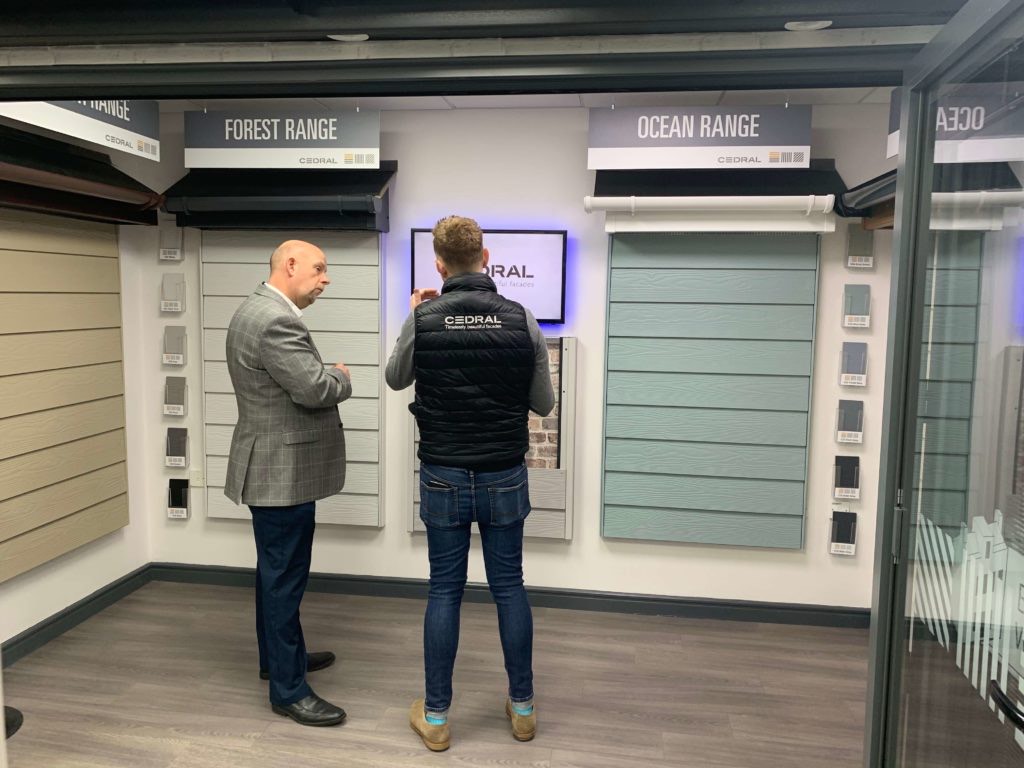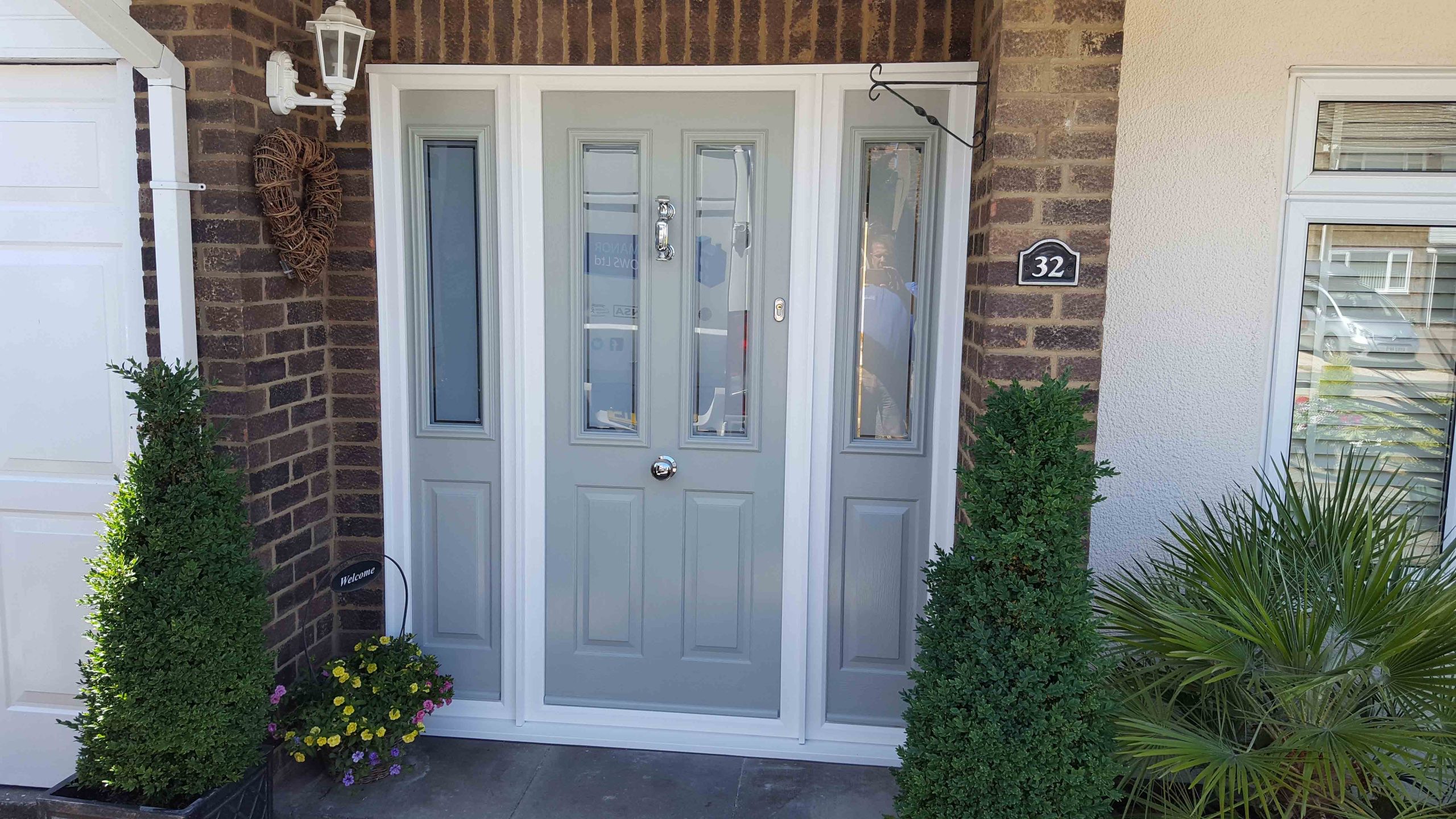 Frequently Asked
Questions
What is a composite door?
A composite door is a type of door that is made from a combination of materials, typically a mixture of uPVC, timber, and reinforced foam. This combination provides the door with several advantages over traditional single material doors.
What are the advantages to having a composite door?
There are many advantages to choosing a Composite Door, we have provided just a few of these below:
1.Durability: Composite doors are tough and long-lasting, making them resistant to damage and weathering.
2.Insulation: The reinforced foam or timber core provides excellent insulation, helping to reduce energy costs and improve energy efficiency in your home.
3.Security: Composite doors feature advanced locking systems, making them more secure than traditional wooden doors.
4.Weather Resistance: Composite doors are weather-resistant, providing protection against rain, wind, and other weather conditions.
5.Aesthetics: Composite doors are available in a range of styles and colours, allowing you to choose a door that complements your home's design and aesthetic.
6.Low Maintenance: Composite doors are easy to clean and require little maintenance, making them a good option for busy homeowners.
7.Cost-Effective: Composite doors are typically more affordable than other door materials such as Aluminium, making them a budget-friendly option for homeowners.
How much do composite doors cost?
Composite door prices can vary significantly, with so many designs and options to choose from. For this reason, we encourage that you use our composite door designers to get an approximate idea of costs. Alternatively, and for the most accurate price, you can book a home or showroom visit with one of our expert team.
What composite doors do Bluemanor offer?
Where can I see your composite doors?
Do Bluemanor supply & install in my area?
Bluemanor Windows supply and install composite doors throughout Essex, Suffolk and parts of Hertfordshire. To find out if Bluemanor can help in your area, simply contact our expert team today.