Aluminium Sliding Doors in Witham
At Bluemanor, we offer aluminium sliding doors for homes in Witham. These doors are a brilliant way to open your living space up to the outside world and to let more natural light and warmth into your home as well. Not only that, but sliding doors provide a seamless transition to your garden. Their broad opening also makes your home more accessible.
Aluminium sliding doors operate on an in-line slider, meaning all you have to do to open them is push them along their tracks. From there, the whole door disappears, turning a wall of your home into a stunning viewpoint. Even when you close your doors, though, you'll get slim sightlines, thanks to full panels of double glazing and slimline aluminium profiles.
Aluminium sliding doors do a lot more than look great, though. Our designs have modern materials and innovative hardware to make sure your doors protect you from nature too. You'll get weatherproof aluminium frames, toughened double glazing, and even features like shootbolts and multi-point locking systems to keep you safe. Because of this, our aluminium sliding doors perform as well as they look.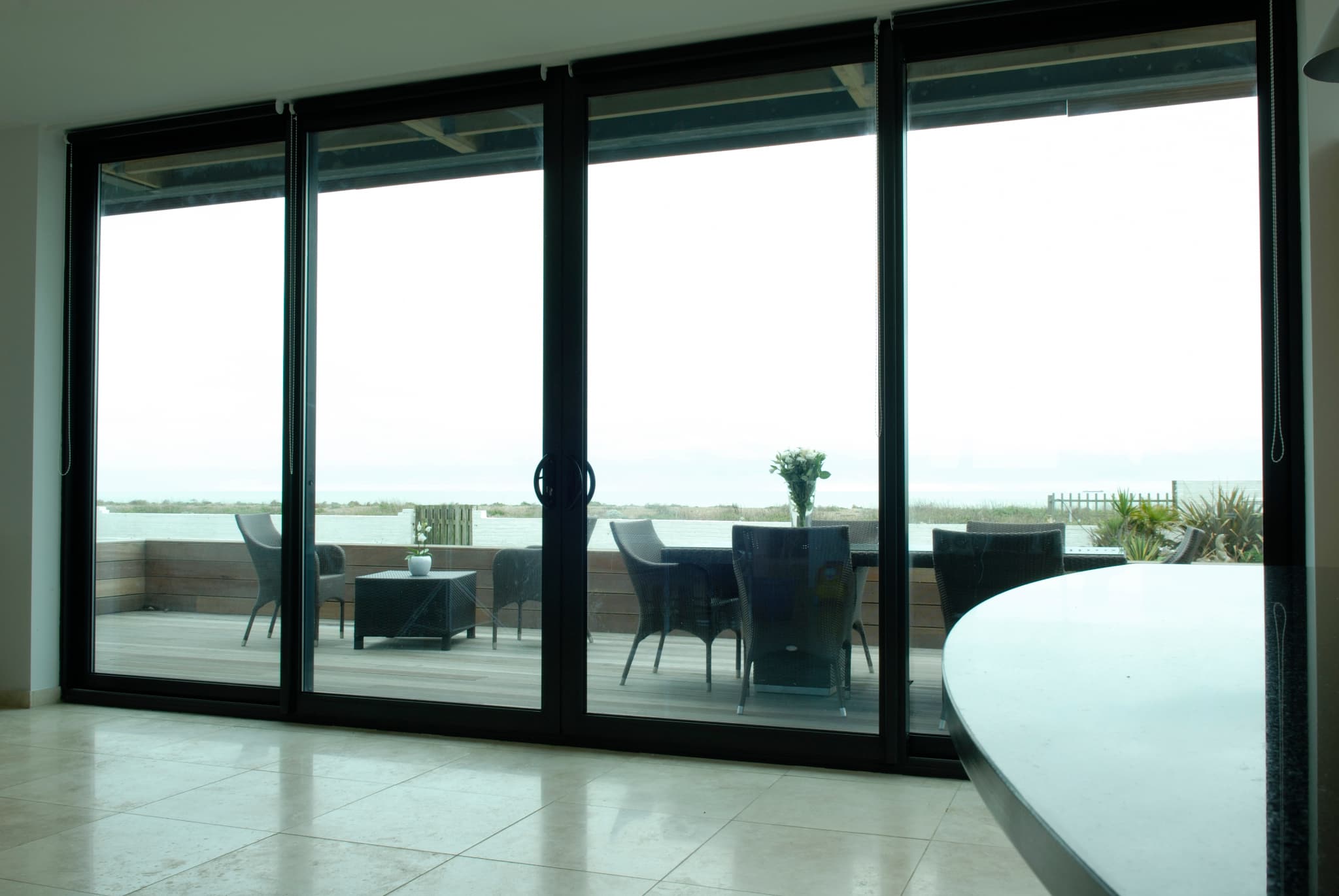 Energy Efficient Aluminium Sliding Doors Witham
One of the main benefits of aluminium sliding doors is their warmth. With full panels of double glazing, you'll get two panes of glass insulating your home. Because of this, cold air is much less likely to pass through your doors to make your home less comfortable. Also, the aluminium frames around the doors are air and water-tight, preventing problems like draughts.
The whole door, then, is thermally efficient. Not only will you block out air from outside, but you can capture more of your home's natural heat. That way, less warmth will escape your home, meaning you can make your heating bills go further. Aluminium sliding doors could repay your investment with energy savings over time!
Also, our aluminium sliding doors can help the planet as well as your Witham home. These doors are lasting designs, thanks to the highly durable glazing and frames. Not only that, the doors are fully recyclable, meaning you can be sure they won't end up in a landfill. And, with the amount of energy they can help you save, you can reduce your home's carbon footprint!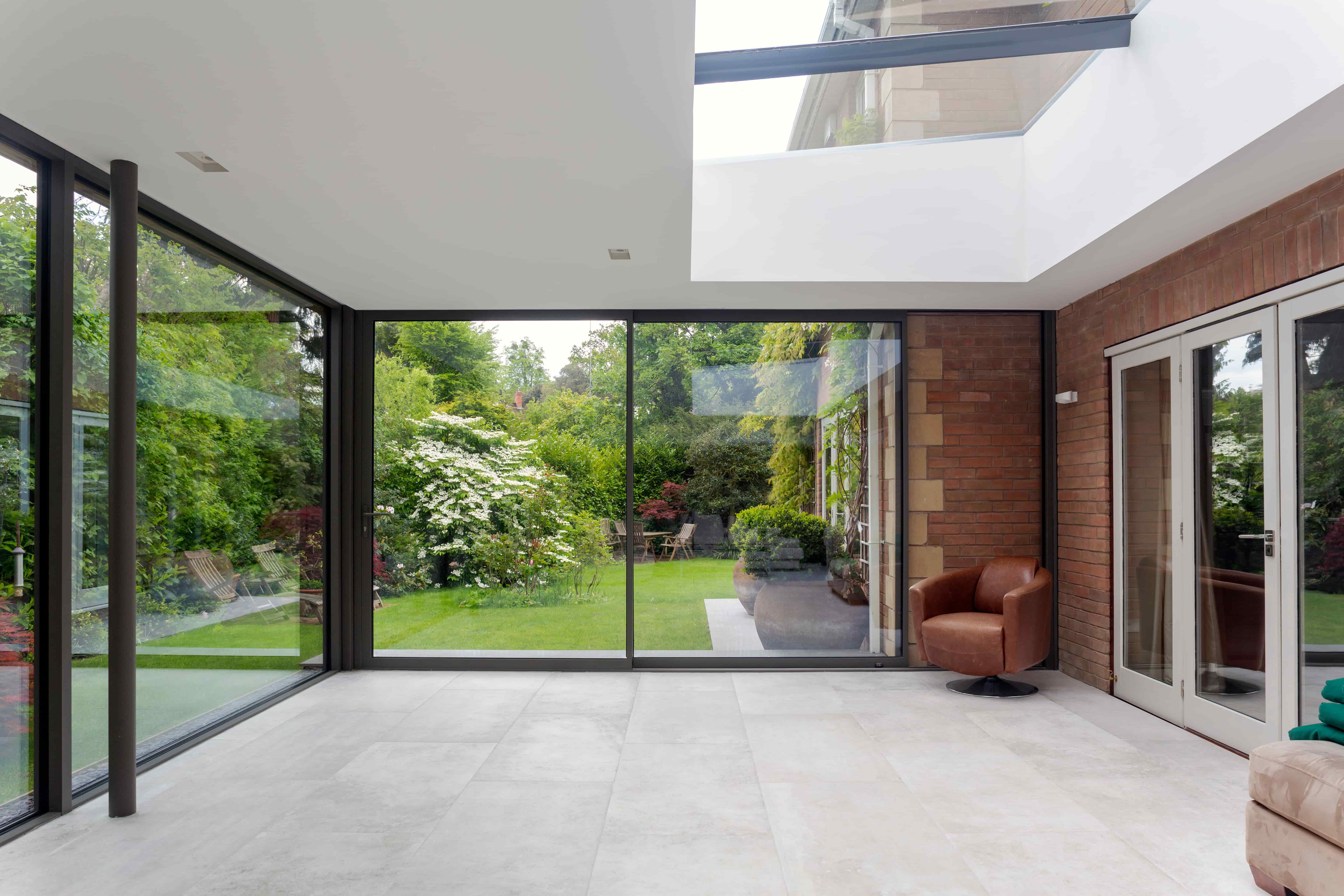 Secure Aluminium Sliding Doors Witham
Aluminium sliding doors can also keep your Witham home safe and secure. While the doors may look sleek, stylish and lightweight, the reality is anything but. That's because our doors come with leading aluminium profiles. A precious metal, this material has incredible inherent strength. Not only that, aluminium is robust and resilient, making your doors impact-resistant.
Because of this, your new doors could be a burglar's worst nightmare. The aluminium frames aren't the only thing keeping them out either. Behind them, you'll get innovative security hardware, such as multi-point locking systems and shootbolts. The aluminium profiles protect them from the weather too, ensuring they stay strong.
The in-line slider also makes our aluminium sliding doors more secure for your Witham home. Because the slider lowers the doors towards the floor, there's less space for intruders to get underneath them. That means our doors are anti-crowbar designs, and the in-line slider features shootbolts that lock your doors internally too.
Waterproof Aluminium Sliding Doors Witham
Aluminium sliding doors can open your Witham home up to nature. With their broad opening and slimline design, you'll enjoy more natural light, warmth and fresh air inside your living space. But what happens when the weather turns on you? The answer is nothing at all, as your aluminium sliding doors will be fully weatherproof designs for your Witham home.
Rather than old wooden doors, which could crack and twist in wind and rain, aluminium has no such problems. The frames will keep their shape and strength for decades, no matter the conditions outside. They'll barely even scratch or dent, meaning you won't have to repaint the frames at all. Aluminium sliding doors can last for up to 50 years in any weather!
Aluminium sliding doors are also less likely to fail in other ways for your Witham home. Because the frames are air and water-tight, they'll prevent problems like condensation more effectively. Not only that, but the aluminium protects the hardware inside, ensuring your doors will slide smoothly for decades to come.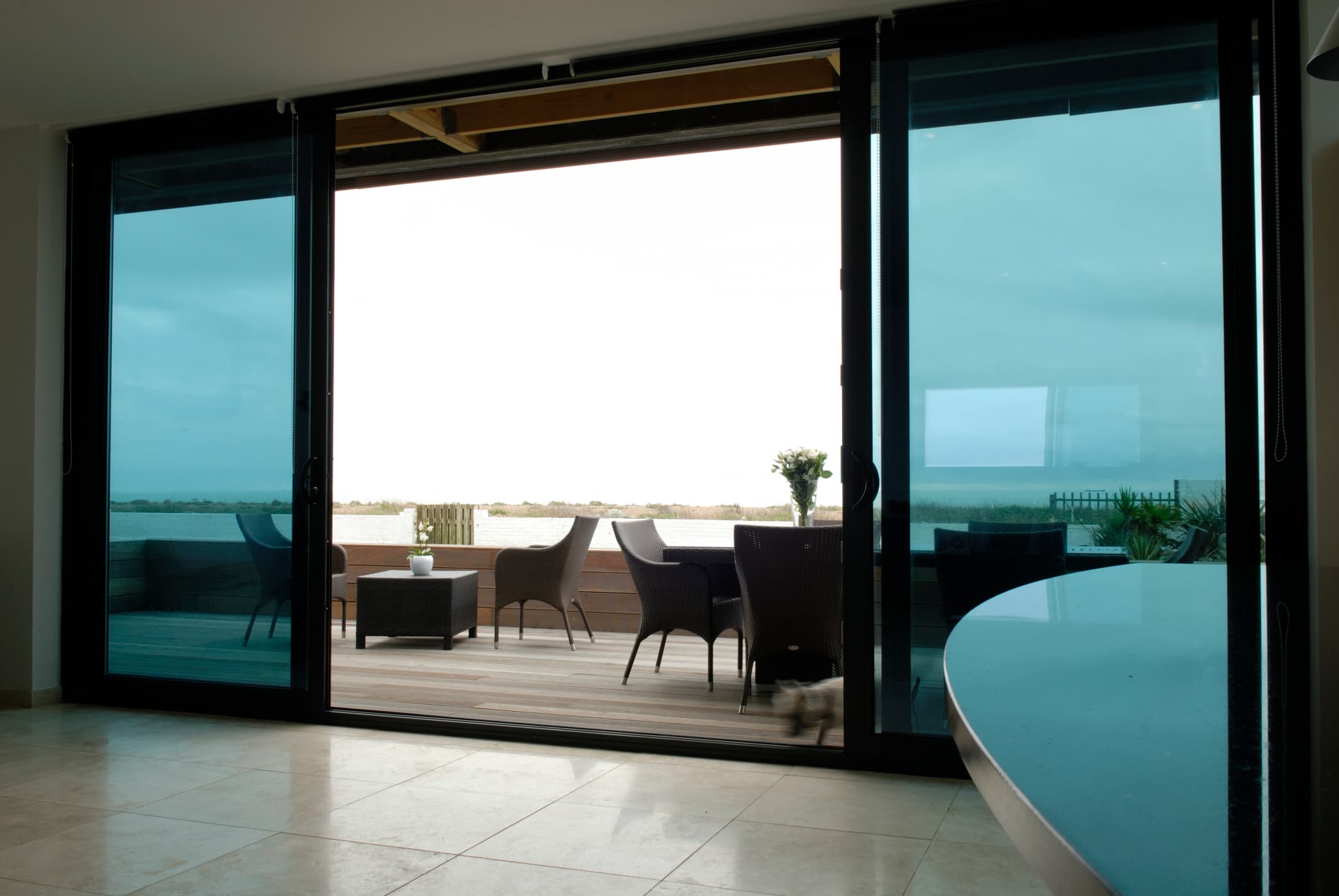 Aluminium Sliding Door Prices Witham
If you'd like to add aluminium sliding doors to your Witham home, get in touch with Bluemanor today. As a trusted, local installer, we can fit your new doors made-to-measure, and with shorter wait times and lower prices. Our installation team is accredited and fully qualified, ensuring you get the right fit. Not only that, they'll treat your home with care and courtesy, just as they would their own.
With our innovative online design tool, you can get a free online quote for our doors in minutes. You can also customise your doors using this interactive tool, choosing the precise size, opening direction, panel configuration, and more!
For more information, you can also get in touch with Bluemanor today. Use our online contact form to ask us anything, or speak to us directly by calling 01376 322 266!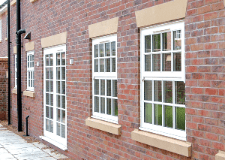 Find Out More
Windows
Attractive and modern windows that offer outstanding energy efficiency, Yale security and British engineering. Our Liniar windows are designed to complement any home in Maldon.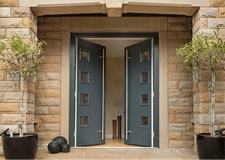 Find Out More
Doors
Be the envy of your street with one of our beautiful uPVC or composite doors. With Yale high security locks and a variety of design options let us transform your Maldon property.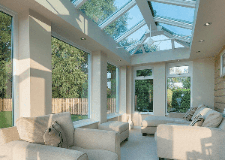 Find Out More
Conservatories
Extend your home with the addition of a stunning conservatory. Increase natural light and space by incorporate a bespoke conservatory into your living area.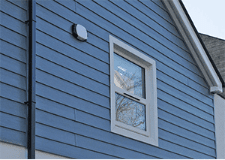 Find Out More
Roofline & Cladding
For a complete home improvement package, consider updating your fascias, soffits and guttering to keep your home protected or installing cladding to featured areas of your home.