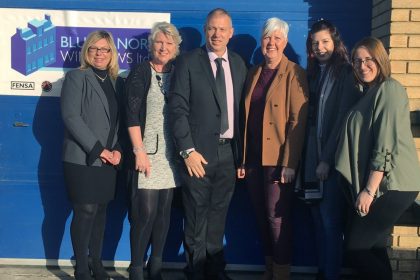 Bluemanor Windows are celebrating an impressive 10 year partnership with their prime business partner Prefix Systems. In the decade that they've been partners, they've become one of the most successful and pivotal installation companies in Essex and the surrounding areas, providing an expert and professional service.
Back in 2008, Steve Clark used his 30 years' experience to set up the company Bluemanor, alongside his wife Sharon. Together they worked tirelessly to expand the company, maintaining their family values and keeping this at the heart of everything they did. Over the years the company has grown considerably, expanding their horizons and adding new products to their extensive range.
Now, the company has six fitting teams and are eager to broaden further with the support of key business partners including Prefix Systems. The products that they specialise in include PVCu, aluminium windows, aluminium doors and a variety of glazed and solid roof solutions. Adding to this, Prefix Sytems offer Ultrasky, full orangeries, Livinroof, WARMroof and the OPUS hybrid glazing system making them an effective partnership.
With the full support of Prefix South, Bluemanor continue to excel, going from strength to strength and delivering a high standard of customer service for every project they undertake. Hayley Dixon, area sales manager for Prefix South said:
'Bluemanor are a perfect example of a successful business that has family values at the heart of what they do. We'd like to express a big congratulations from Prefix South and look forward to another decade of success, with our support.'
Managing director of Bluemanor Windows, Steve Clark, concludes:
'Over the last 10 years we have built an enviable reputation as a business in the Essex area and have also been fortunate to build some great business relationships with the likes of Prefix Systems. We're now looking forward to the challenges of the next decade and the sales opportunities for a number of new and exciting products.'
Please get in touch with us today directly for further information.