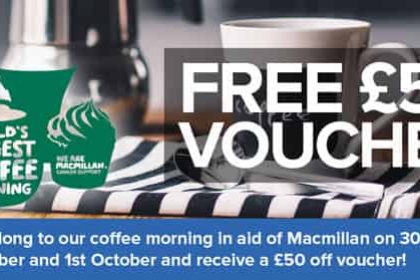 Join us on the 30th September and the 1st of October for a cosy encounter with coffee and cakes to raise money for Macmillan Cancer Support. Not only will you be raising awareness and money for a noble cause, you'll also receive a £50 voucher from us as a massive thank you for your attendance. Everyone is welcome, even if you steal our favourite biscuits!

The Macmillan Coffee Morning has been brewing since 1990 and we're proud to help it move from strength to strength. Since then the Coffee Morning has raised a whopping £138 million for the fight against cancer. It's a sobering fact that 1 in 3 of us will get this devastating disease, and we want to do our part in helping Macmillan be there for every single sufferer.
We believe that sometimes it's the little things that keep a bad day at bay, which is exactly why we are offering everyone the chance to enjoy a lovely cup of tea or coffee, a heart-warming chat and a scrumptious slice of cake (don't worry, we won't tell anyone).
On top of all this we'll also be raffling an assortment of exciting prizes and giving all attendees a £50 Bluemanor voucher for you to use on your next purchase from us. Simply put, this is just us saying thank you without making you feel uncomfortable with hugs and kisses. This way, you can help us fight cancer and we'll help you get the perfect double glazing for your home, It's a win-win situation!
Although we may have blue in our name, we guarantee that's not something you'll be feeling when you join us as we become part of the 'world's biggest coffee morning'.
So, the kettle's on! We take two sugars in ours, how do you take yours?